---
Mount Timpanogos - 11,750 feet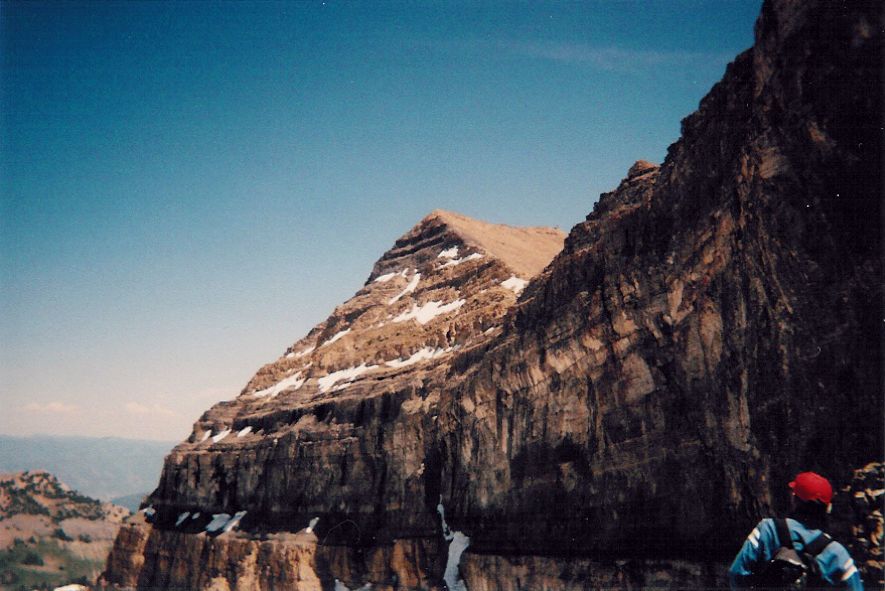 Here the view of the Mount Timpangos about 700 feet below the top.

My apologies for the bad picture quality, I had to use a cheap temporary camera and scan the pictures in!


Trip Report (July 2001):
We were on a family vacation down in Utah, so I decided to climb Mount Timpanogos. It turned out to be a great choice. It is a huge mountain, made up of vertical cliffs of layered rock. The way up takes you from a lush valley, to an alpine world of snow, big cliffs, and emerald colored lakes. The view of the Provo area and the other Utah mountains from the top is superb. Too bad my photos turned out poorly, as you will see if you follow the pictures link. I really enjoyed the hike up the valley, which featured waterfalls and snowfield crossings.

-Dan

Getting There:
I hiked Timp via the Aspen Grove trailhead. Access the Aspen Grove trailhead from Highway 92. Highway 92 is accessible from US 189, 12 miles from Provo or from Interstate 15 via the Aspen exit (near Lehi).

Route:
The Aspen Grove trail starts out as a well maintained gravel trail. After a mile or so, it turns narrower, but becomes paved. Once you reach the first waterfall, the pavement ends and the switchbacks begin. The switchbacks lead up the head of a valley, crossing snowfields and near waterfalls. Once out of the valley, the route gets flatter, and works its way to a shelter near Emerald Lake. Beyond this, the route crosses a snow field (about a mile long when I did it) and then reaches a saddle. At the saddle, you turn south and again follow a trail up to the summit of Timpanogos.

Trip stats:
Time: 9 hours
Length: 14-18 miles (depending which guide book you use)
Elevation Gain: 5,000 feet
Class (difficulty): 2 (snow crossing)

Pictures: Click on the pictures below to see the full-size version.

| | |
| --- | --- |
| | |
| Waterfall on the way to the top. | Mountain goats we spotted on the way to the top. |
| | |
| The valley (Provo, Orem) as seen from the top. | Looking south from the top of Mount Timpanogos. |
| | |
| Looking down (straight down) at Emerald Lake. | Looking back at the head of the valley (the trail switchbacks through this area). |