---
Snowbank Mountain - Granite Mountain - Gem County Highpoint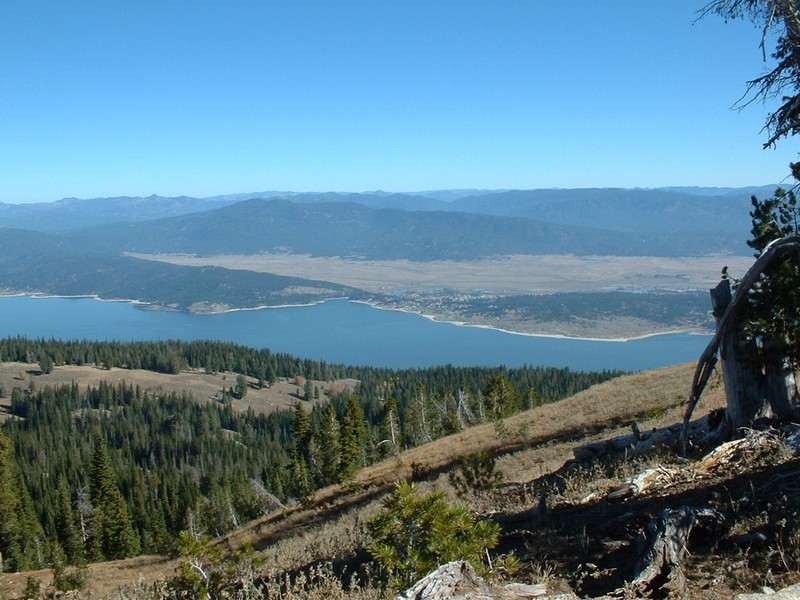 Cascade Lake and the town of Cascade from the ridge heading toward Point 7971.


Trip Report (10/13/2002):
I went to the West Mountains to grab a range highpoint (Snowbank Mountain) and a county highpoint (un-named point 7971). This trip was not that enjoyable, as the area was full of hunters, cow shit, and dust. I could see some potential for enjoyment in early summer though if things were green. Hit Granite Mountain on the way if you are an avid peakbagger... it's only about a 5 minute walk from the road.

Trip stats:
Time: 7 hours
Length: 8.5 miles
Elevation Gain: 1800 feet
Class (difficulty): 2

Directions:
Drive 8 miles south of Cascade on ID-55, turn west onto Snowbank Mountain road. Just follow the signs to Snowbank Mountain on this paved, then good gravel road.

Route:
To hit Granite Mountain, just get out of the vehicle at a saddle, just after you get on the crest of the West Mountains. Snowbank is covered with towers and buildings, walk around and find your highpoint. To get to the Gem county highpoint, follow the trail that starts between the two Snowbank Mountains on the map heading north. Follow the trail up and down the ridge until it turns northwesterly. At this point, cruise up to the ridge top for an awesome view of Cascade! The trail kind of drops down into a basin, just follow this basin to the base of Point 7971 and pick any route to the top. The terrain is very open.

Pictures: Click on the pictures below to see the full-size version.

| | | |
| --- | --- | --- |
| | | |
| The Gem County highpoint. | Snowbank Mountain and its buildings. | Granite Peak from Snowbank. |