---
Smoky Mountain Climb
Titus Peak - 10,110 | Bromaghin Peak - 10,225 | Saviers Peak 10,441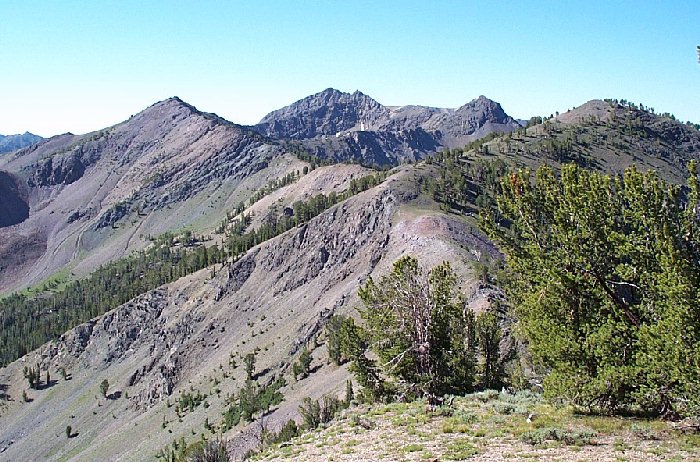 Looking at the ridge that provides access to Titus, Bromagin, and Saviers peaks.


Trip Report (July 2001):
Zach Vickery and I thought it might be possible to traverse the ridge heading southwest from Galena Summit and hit 3 10,000 foot peaks in one shot. We were right and it made for a great (albeit long) day. The views of Castle Peak, the Boulders, and the Sawtooth mountains and valley throughout this trip are tremendous. The route is mostly class 1 and 2, but is probably class 3 near the top of Saviers.

-Dan

Getting There:
Drive about 25 miles north of Ketchum to Galena Summit and park near the sign identifying the summit and its elevation (8,701 feet).

Route:
Cross over to the west side of Idaho 75 and look for a trail leading up the ridge. Follow the trail until it dies out at the base of Point 9,921. From here, simply follow the ridge and intermittent trail. First to Peak 10,005, then Titus, Bromaghin, then on to Saviers. I can't stress enough to stay on the ridge line between Bromaghin and Saviers until the last few towers before the top of Saviers... it will save you a lot of time!

Trip stats:
Time: 9.5 hours
Length: 10 miles
Elevation Gain: 3,700 feet (about 1,000 on the return climb)
Class (difficulty): 3

Pictures: Click on the pictures below to see the full-size version.

| | |
| --- | --- |
| | |
| Castle Peak and a neat cloud formation as seen from Titus Peak. | Bromaghin Peak from the top of Saviers... Sawtooth Valley providing the backdrop. |
| | |
| Saviers Peak from ridge between Titus and Bromaghin. | Looking at Saviers Peak from the top of Bromaghin Peak. |
| | |
| Looking at Saviers Peak from the south (this photo is from the previous day). | Bromaghin Peak, as seen from atop Titus Peak. |