---
Northern White Clouds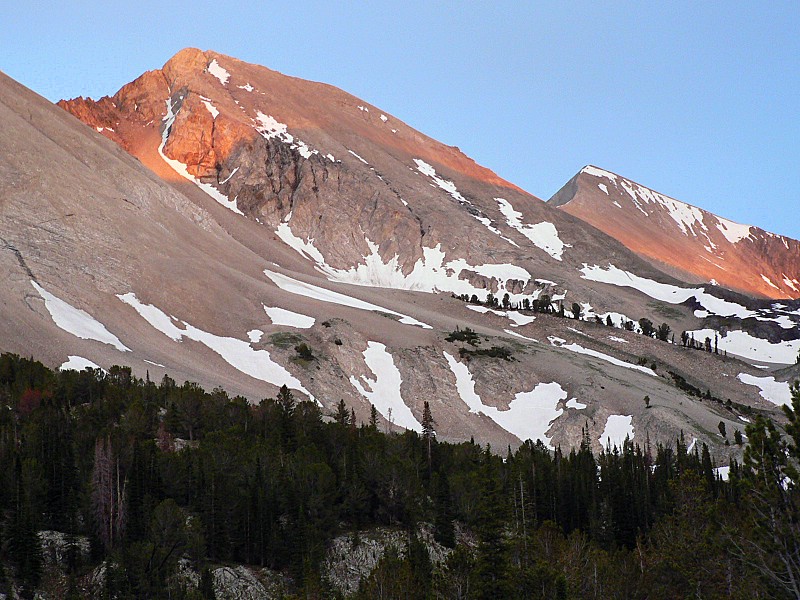 White Cloud Peaks at sunset.


Trip Report (7/9/2005):
Kevin and I had scheduled this weekend for an outing for quite awhile. At first it was supposed to be Rainier, then that trip kind of fell apart. After that we decided to just do a backpack and chose the Seven Devils. I wanted to return to climb He Devil and Kevin just wanted to get out. Later, I invited John (he did Snowyside Peak with me last year) from work to go as well.

Just before I left work, I checked the weather forecast. 60% chance of rain for the Devils on Saturday. Dangit! Wait a sec, what about the Pioneers? The Sawtooths? Hmmm... only a 20% chance. So at Kevin's house, I brought that to Kevin and John's attention. It was unanimous that we go elsewhere. We couldn't really decide where elsewhere was, but when I mentioned Ocalkens Lake in the northern White Clouds, both seemed fine with it. Off we went.

We ran into a nasty thunderstorm just before Stanley. Between Stanley and the Slate Creek turnoff, we were seeing heavy rains and even a fairly big slide on the road. Kevin's high clearance saved us, but the driver of a sedan we stopped and talked to was not so lucky. We arrived at the trailhead 30 minutes later, with clearing skies overhead.

We hit the trail until around 8am the next morning. Other than hot springer's, there was no one else at the trailhead. We hiked on a good trail to the hot springs, then the abandoned mine. After this point, the trail is a bit tricky to find and stays on the right hand side of the creek for a few miles. After hiking along the creek in trees, the drainage eventually opened up, treating us to great views of the White Clouds Peaks that surround the Slate Creek drainage. The sky was clear and the temps just right. After a creek crossing puts you on the east side of the creek, the trail is hard to follow in places and covered with downfall. Just keeping looking for cut logs and blazes on the trees, you'll make it through.

We got to the lake, setup camp, ate lunch, then set off for the peaks. The view from 20 feet above our campsite was amazing, with high, white limestone peaks to our east, and large walls of varying color in all other directions and lakes at our feet.

On our peak bagging journey, we wanted to ascend WCP-9 at a minimum, then take a look at Calkens Peak and D.O. Lee Peak. WCP-9 was fairly easy, just straight up a buttress from the west. I'd say use this side or that, but the terrain is fairly easy... just go up! 95% of the ascent is class 2, but I did some class 3 climbing just to stay away from loose scree. On top of WCP-9, you have incredible views of the White Cloud Peaks, the Boulder Chain of Lakes, and the Sawtooths. The Boulders, Pioneers, and Lost Rivers are in view in the distance. We we lucky enough to see 6 goats just below the summit. Also of interest is the white rock and flowers growing right atop the summit in the harsh environment.

With storm clouds brewing on the horizon, we knew Calkens was out. D.O. Lee Peak was near, but appeared to have a snow pitch at the top that I didn't like the looks of. Kevin wanted to check it out, so we descended to the saddle between WCP-9 and D.O. Lee Peak. John remained at the saddle and Kevin and myself headed up to the snowfield. My initial thoughts remained upon reaching the base of it, 140 feet below the summit. It was steep and part of it was cracked and overhanging the north face of the peak. Kevin headed up the pitch with ice axe in hand and was able to get up and summit the peak without issue. He estimated the slope at 70 degrees and offered the ice axe to me when he returned. I wasn't interested, so we headed back down to camp. A cold front hit just as we got back to camp and drove us to our tents until 9pm.

The hike out was rainy and uninteresting on Sunday morning. Well, at least until we ran into a vocal local at the hot springs near the end of the trailhead that let us know we had no "hot springs edikut", among other things. After a soak, we headed to Stanley for lunch. Here we ran into Steve and his girlfriend from Tennessee. They were in Montana and Idaho doing some hiking and recognized me from my trip reports on this site. Getting some feedback on how helpful my pictures and trip reports were was nice. Considering how small the odds were of running into someone from out of state in a small restaraunt and having them be hikers that recognized you were, all parties were amazed.

Trip stats:
Time: 9 hours (2.5 to the lake, 5 to climb the WCP-9 and explore, and 1.5 out)
Length: ~13 miles
Cumulative Elevation Gain: ~5000 feet
Class (difficulty): 3

Map:
Topo map of the peak.

Route:
Backpack to Ocalkens Lake. From Ocalkens, hike south through meadows along the base of Calkens Peak and WCP-9 until you reach the west ridge of WCP-9. Take that ridge to within a few hundred feet of WCP-9's summit. Turn north and follow goat trails to the summit.

To do D.O. Lee, simply follow the easy ridge from WCP-9 to the saddle between it and D.O. Lee Peak. Follow the north ridge of D.O. Lee to the top. The last 100 feet or so of the ridge is steep and snow covered well into summer. An ice axe will be helpful when that section is snow covered.

Drive:
Head east on Idaho 75 towards Challis. After about 24 miles, look for the Slate Creek Road turnoff on the south side of the highway. Follow Slate Creek Road (FS 666) for 6 miles to its end. This road driven by a sedan. There is a hot spring about 1/4 from the end of the road.

Pictures: Click on the pictures below to see the full-size version.

| | | |
| --- | --- | --- |
| | | |
| Approach, looking up the Slate Creek drainage. | A small lake below Ocalkens Lake. | Our first glimpse of Calkens, WCP-9, and D.O. Lee Peaks. |
| | | |
| | | |
| WCP-9. | Calkens Peak from WCP-9. | Flower right on the summit of WCP-9. |
| | | |
| | | |
| The group on WCP-9. | D.O. Lee Peak from WCP-9. | Big Boulder Lakes from WCP-9. |
| | | |
| | | |
| Mountain goats just below WCP-9. | Ditto. | Ocalkens Lake... our basecamp. |
| | | |
| | | |
| Kevin on the D.O. Lee Peak crux. | Kevin again. | Bighorn Basin. |