---
Meridian Peak - 10400 Feet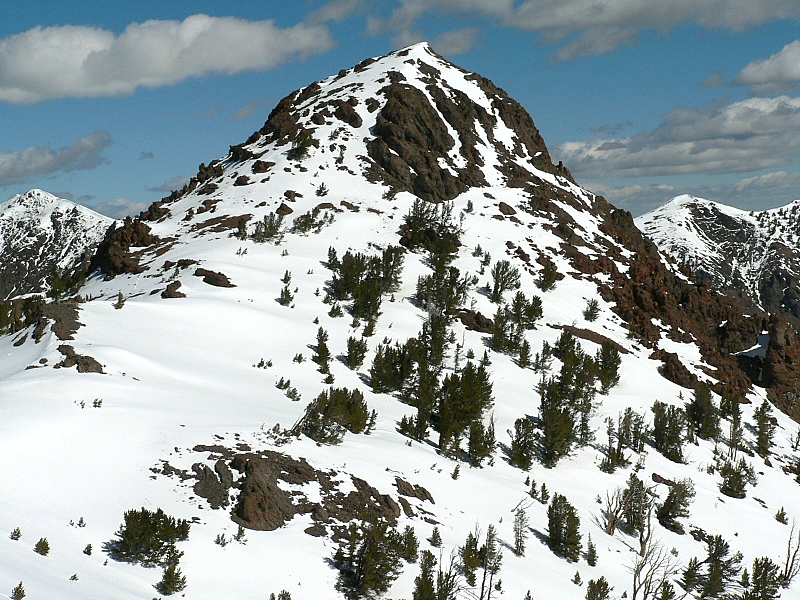 Meridian Peak from a lower summit.


Trip Report (5/22/2005):
Spring fever had struck, good weather had moved into the area after a rainy month, and I bought a new camera. Therefore, I decided to go on a drive Saturday, do a hike that evening, then do a bigger peak the next day.

On Saturday, I drove from Boise to Stanley and then dropped down through the Sawtooth Valley, over Galena, then to Sun Valley. I then raced up Sun Peak, which is just northeast of Sun Valley. That little peak has great views and a neat little trail to the top (3 miles, 1700' gain).

On Sunday, I met up with Sean, a enthusiastic young man from Ketchum. We were headed for the North Fork of the Big Lost River and the base of Meridian Peak. We picked Meridian Peak because storms had deposited a lot of snow on the peaks recently and the avalanche danger was high. Meridian offered a challenging, yet safe ascent.

After the long drive over Trail Creek Summit, we arrived at the south base of Meridian Peak. Roads were great until near the end, where mud halted our progress. From here, we followed Hunter Creek trail northwest a 1/2 a mile or so, then got onto the southwest ridge of Meridian Peak, heading right for Point 10285 (the named Meridian Peak on the map).

The going was easy, but around 9500' we started getting into snow that would not support our weight. After some aggravating post-holing, Sean and I arrived at Point 10285. From here, we could see the higher summit to the north and no obstacles were apparent. Off we went on a corniced ridge.

From the top of Meridian Peak, you have quite a view. To the east is the Lost River range, which you can see the entire length. To the west are the high Boulder Mountains, like Perkins, Kent, and Ryan, which were amazing to look at (especially from the trailhead, were they rise in dramatic fashion). To the south are the Pioneers, with Devil's Bedstead East looking bad to the bone as usual.

Trip stats:
Time: 5 hours
Length: 7 miles
Cumulative Elevation Gain: 3000 feet
Class (difficulty): 2

Map:
Topo map of the peak.

Route:
Hunter Creek trail, then southwest ridge.

Pictures: Click on the pictures below to see the full-size version.

Perkins Peak from the trailhead.

Kent Peak from the trailhead.

Ryan Peak from the trailhead.

Cornice that was near Point 10285.

An avalanche just below the peak.

Me on top of Meridian Peak.

Sean atop Meridian Peak.

Devil's Bedstead East!


Pictures: (From the drive and Sun Peak on 5/21/2005)

McGown Peak in the Sawtooths.

McGown Peak again.

Williams and Thompson peaks.

Little Redfish Lake.

Horstman Peak.

Redfish Lake.

Baldy Mountain from the top of Sun Peak.