---
McGown Peak - 9,860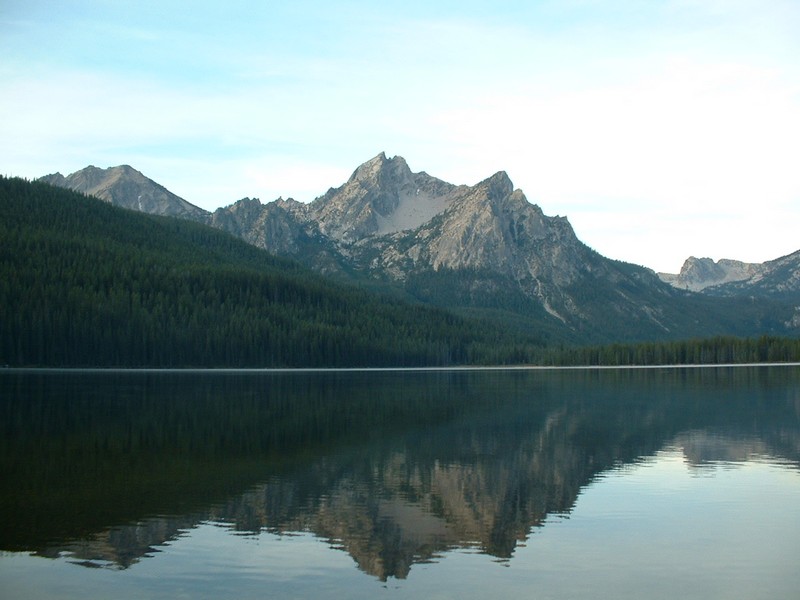 McGown Peak in the early morning, rising south of Stanley Lake.


Trip Report (9/15/2002):
We climbed McGown Peak on a cool, fall day. Zach accompanied me on this one. I have to admit that I have been intimidated/enchanted by this peak since I was a 8-year old wondering "what if"...

20 years later I finally decided to go for it. And what a beautiful trip it was! We arrived very early and needed most of the day for this trip. I also have to admit that this was the steepest peak I have done, mostly because we took a questionable route on the way down. The route up is probably easy to moderate class 3, the route we took down may have edged on class 4.

The view from the top of the Sawtooths is excellent, I would say better than that from Alpine and Mt. Cramer. Also on top is a summit register and terrific view of Stanley the town, Stanley Lake, the White Clouds, and several lakes.

Trip stats:
Time: 10 hours
Length: 12 miles
Elevation Gain: 4000 feet
Class (difficulty): 3

Directions:
Make your way to Stanley Lake (about 8 miles northwest of Stanley) via ID-21. Use the trailhead near the Inlet Campground.

Route:
From the trailhead, hike about a 1 mile south on an excellent trail to the junction with the Alpine Way trail, which you will turn east onto. Follow this trail for about 2.5 miles to a saddle due east of the peak. From here, we followed the ridge west until we dropped into the east cirque described in Tom Lopez's book. We basically followed the cirque to the base of the east rib as described in the book. Once we got to the base of the summit block, we traversed northerly about 50 feet under the summit until we could see the register on top, then made our way to the top. One word of advice is to stick to the rib on descent. We tried descending just to the left of the rib (just north of it) and had some pretty hard class 3/4 stuff to contend with, instead of what surely would have been a fun slide on scree on the other side of the rib.

Pictures: Click on the pictures below to see the full-size version.

| | | |
| --- | --- | --- |
| | | |
| Looking up at McGown, only a half a mile into the hike. | The east cirque. | The east side of the peak, we followed the treed ridge to the summit. |
| | | |
| Close up of the east face. | The Sawtooth Mountains from the summit. | Looking down at the east cirque. |