---
Backpack to Langer Lake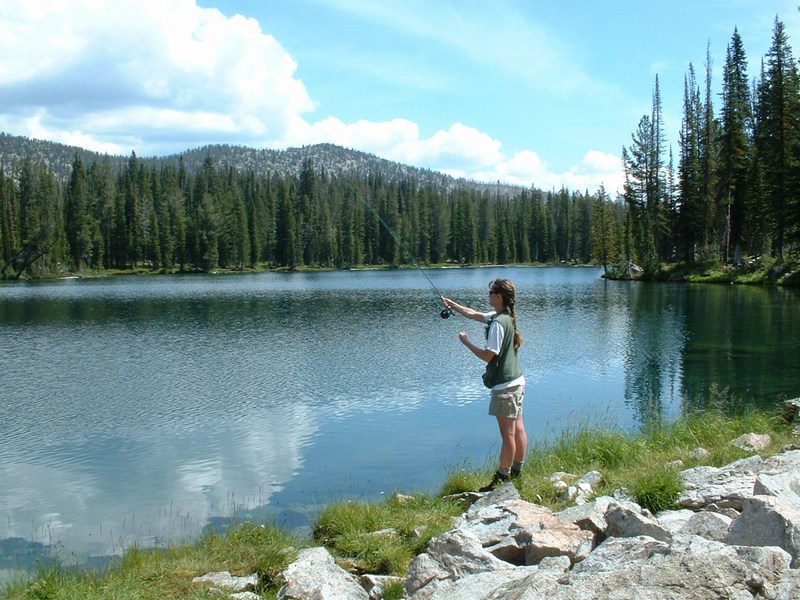 My wife fishing at Island Lake.


Trip Report (8/14/2004 and 8/15/2004):
My wife, daughter, and myself backpacked into Langer Lake in the Cape Horn area, about 25 miles northwest of Stanley. The hike into the lake is only about 2 miles with 800 feet of elevation gain.

Our hike in was during the heat of the day and took about 2 hours. My daughter didn't like the initial section of the trail, which was steep, but did much better after the trail leveled. We stayed on the far western end of Langer Lake.

With few fish seen in Langer Lake, we took a short hike up to Island Lake (about 1 mile away). Here we could see large fish swimming in the lake. My wife did well, catching a 12-inch trout and getting several others to chase her fly.

After the fishing outing, I headed up to Ruffneck Peak, a 2.5 mile and approximately 1400-foot hike from Langer Lake. This went well, and actually only took 1.5 hours roundtrip. There is a neat lookout on top, with good views in all directions, especially south to the Sawtooth peaks.

The hike out went well, and only took us 1 hour. We were the last one into the lakes on Saturday and the last ones out of them on Sunday, Great weekend with the family!

Trip stats:
Time: 2 hours into Langer Lake
1 hour from Langer Lake to car
1.5 hours from Langer Lake to Ruffneck Peak

Length: 5 miles (car to Langer Lake and back)
5 miles (Langer Lake to Ruffneck Peak)

Elevation Gain: 800 feet (car to Langer Lake)
1400 feet (Langer Lake to Ruffneck Peak)

Class (difficulty): 1 (there is a trail to the lookout and lakes)

Drive:
Turn onto the Seafoam Road about 16 miles west of Stanley on ID-21. Immediately after turning off the highway, you need to take a right at a junction. You will need to stay left at another junction about 1/2 a mile from that turn. Follow this nice gravel road for 7 miles to a small parking area on the right-hand side of the road, just before you reach the Langer Monument and trailhead register.

Route:
Just follow the trail from the Langer Monument west to Langer Lake. The trail starts off steep, but then levels out through a rocky, forest fire burned area before reaching the lake. About 1/4 mile west of Langer Lake, the trail branches. The south fork goes to Island Lake and the north fork to Ruffneck Peak.

Pictures: Click on the pictures below to see the full-size version.

| | | |
| --- | --- | --- |
| | | |
| Carrie and Lexie signing in at the trailhead. | Grouse near Island Lake. | Lexie sitting near Island Lake. |
| | | |
| Fish in Island Lake. | Ruffneck Peak from Island Lake. | Rock formation near Island Lake. |
| | | |
| Island Lake from above. | Lookout atop Ruffneck Peak. | Looking southeast from Ruffneck Peak. |