---
Jacqueline Peak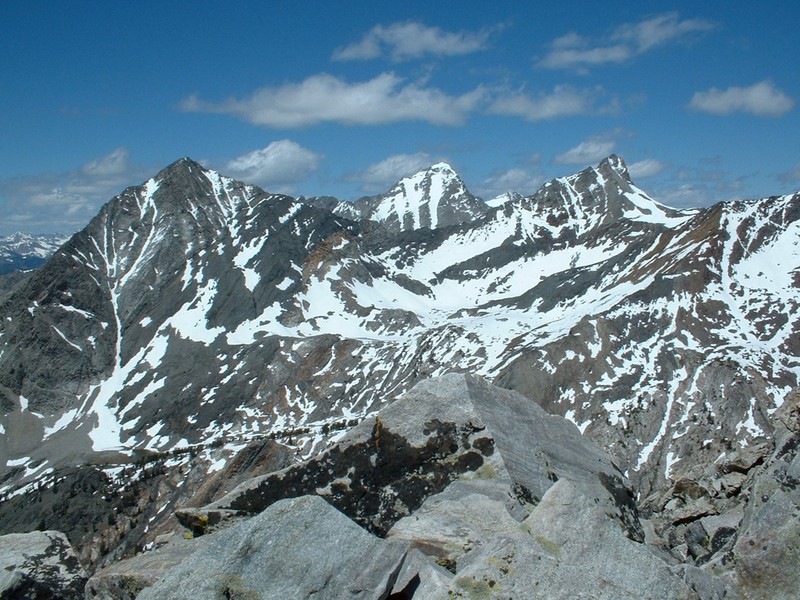 Cobb, Hyndman, and Old Hyndman from the top of Jacqueline Peak.


Trip Report (6/13/2004):

I was looking for a quick hike just to get out and stretch my legs. I figured I might as well knock a 11er of the list and chose Jacqueline Peak near Ketchum. Jacqueline Peak turned out to be a very fun scramble. The views of Cobb, Old Hyndman, and Hyndman peaks were tremendous. Big Basin was green and at my feet. I could make out the snowy Boulders and Sawtooths to my north. To my south was the impressive looking Grays Peak, which I had summited a few months before in a near whiteout. East led to views of lots and lots of big peaks.

The top sports two registers, one an old Folgers can from the original ascent in 1923. This ascent was done from Carey, Idaho. A lengthy report from 1958 is in the new register and was left by the person that named the peak (W.A. McIntyre). W.A. named the peak after his wife. I noticed the name Kiska Peak had been crossed off the register, so maybe that is another name it may be known as.

Trip stats:
Time: 4:30 (2:30 up, approx. 30 min. on top, 1:30 down)
Length: 4 miles
Elevation Gain: 3500 feet
Class (difficulty): 3

* I rode my bike in about 2 miles each way... those stats are not shown here.

Drive:

Turn east onto the East Fork Wood River Road from Highway 75. The turnoff is about 5.5 miles south of the town of Ketchum. You will reach the small village of Triumph at 5.8 miles, just keep heading east on the road. Shortly after Triumph the road becomes dirt. Continue east on the road when you see the turn-off for the Hyndman Creek trailhead at 7.2 miles. Eventually you will pass Sawmill and Federal Gulch campgrounds. After the campgrounds the road becomes rougher, and a high clearance vehicle is probably recommended. About 3.7 miles after the Federal Gulch campground, you will cross the 7720 foot contour. Park here.

Route:

I scrambled to the summit from the East Fork Road near the Mascot Mine. I headed north towards the peak where the 7720 foot contour crosses the road (just after you cross a creek coming down from the north). You can nearly see the summit from here, just head through the aspens and tall grass to sage brush slopes above. Eventually the sage brush relents to boulders that are fairly stable. Just keep angling for the ridge line and meet it around 10000 feet (though anywhere on this side of the peak will go without much trouble). Follow the south ridge to the summit. The last 200 feet or so are on a un-exposed knife-edge ridge that is a blast to be on.

Pictures: Click on the pictures below to see the full-size version.

| | | |
| --- | --- | --- |
| | | |
| Looking up at Jacqueline Peak from the road. | The terrain at around 10000 feet. | The south ridge from near the summit. |
| | | |
| Cobb Peak from Jacqueline. | Hyndman Peak from Jacqueline. | Old Hyndman Peak from Jacqueline. |
| | | |
| Grays Peak from the summit. | Big Basin beneath the peak. | The Boulder Mountains to the north. |