---
Gladiator Peak - 10,243 Feet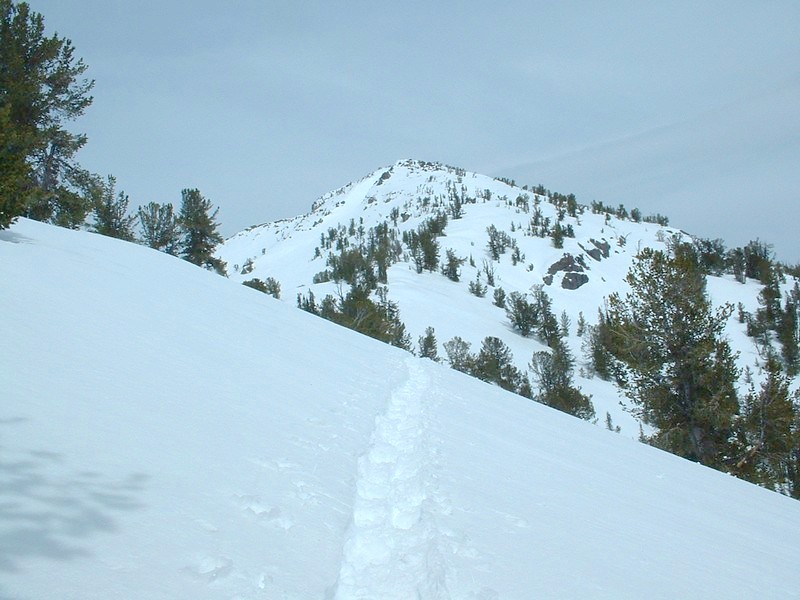 Gladiator Peak, only 700 feet to go.


Trip Report (3/30/2003):
Trying to better my endurance and experience on snow, I thought I'd snowshoe to the summit of Gladiator Peak. In the past few weeks I'd studied a feasible route and just waited for weather and avalanche conditions to improve. With 3 or 4 days of clear skies, I decided it was time.

I parked on ID-75, just before the first switchback to reach Galena Summit. From here, I snowshoed southeasterly through meadows and trees toward the base of Gladiator's west ridge. For a while, there was a trail by some other snowshoer and the going was good. Once in the trees near the base of the ridge, the snow was soft and the level of energy to fight through it was increasing.

After 1.5 miles of work, I was now on the west ridge. The ridge starts at about 7800 feet. Once I hit the area where the sun had hit the day before, the going was better, with a decent crust. The lower section of the ridge is fairly steep, probably about a 25 degree slope. At about 8800 feet, it relents to a 15 to 20 degree slope. Here is where I heard the dreaded "whoomping" from the snow. Obviously not steep enough for an avalanche, with trees always within arms reach away, it was still eerie to hear it. The whoomps would start at my feet, then radiate like rolling thunder of the ridge each direction. No cracks or signs of the snow collapse could be seen. Another trend at 8800 feet was that the snow became soft again. I was fighting through a foot deep powder once again and navigating in and around drifts that crossed the ridge. By 9,000 feet I wanted to quit. At 9,200 feet, my GPS said I was ascending at a rate of 400 feet an hour (lame!). All I wanted to do was reach Point 9607 and call it a day. I could see the real peak above from time to time, and it looked to steep to climb anyway.

At around 9,300 feet I found a beautiful pack trail some other person on snowshoes had made the day before. Beyond that, it had froze and was effortless to follow. "This will get me to 9607 easily" I thought. Once on the trail, I was totally rejuventated. I passed 9607 within a few minutes and didn't even stop. Just past 9607 the ridge joins up with the main summit block. The ridge laid back and looked much less steep. I just kept following the tracks from the day before, which were drifted over in a few spots. "Holy shit, I'm going to make it!" I kept thinking. Cramps kicked in at around 10,000 feet, I hadn't had those in 4 years since Borah Peak. I fought them off for the final 200 feet.

The top is basically a narrow rock band with a cornice dominating the south side. The western-most section is wider, but it narrows and gets rockier towards the east (higher) end. It was a bit airy to get to the actual highpoint of Gladiator Peak, and I touched the highest rock while on hands and knees on a patch of solid ridge below it. I'll bet most stop a couple hundred of feet away, and I probably should have.

The views are spectacular. As always, Castle Peak looked giant in the White Clouds. Galena Peak loomed large to the immediate south, with some wicked looking cornices on its ridges. You could see ID-75 snaking its way up to Galena summit... the Sawtooth Valley and Sawtooth Mountains rising beyond that. An excellent sight after 6 months worth of lowland hiking!

Trip stats:
Time: 6 hours
Length: 7 miles
Elevation Gain: 3000 feet
Class (difficulty): 2

Directions:
Drive north out of Ketchum on ID-75. Looking for parking on the west side of the road, just before the first switchback as the road starts climbing toward Galena Summit. You could also hit it from Galena site shown on the topo as well.

Route:
I just angled southeasterly to the base of the west ridge, then followed it to the summit.

Pictures: Click on the pictures below to see the full-size version.

| | | |
| --- | --- | --- |
| | | |
| Gladiator Peak from the Galena Lodge. | Galena Peak from the summit. | The Sawtooth valley from the summit. |
| | | |
| The cornice on the south side of the summit. | The Big Wood River drainage from near the summit. | ID-75 snaking toward Galena Summit. |