---
Galena Peak - 11,153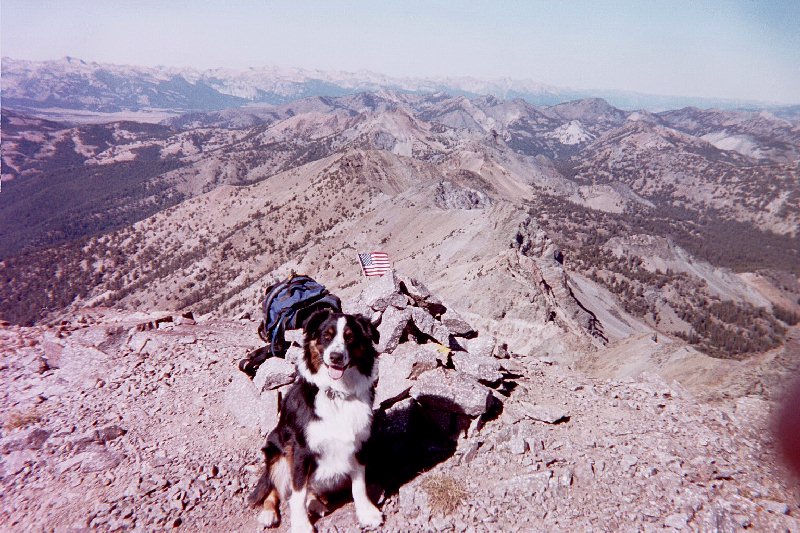 The view of my dog Granite on top of Galena Peak.

Trip Report (October 1st, 2001):

Here is my trip report for Galena Peak in Idaho's Boulder mountains.

I only took my dog on this trip, and it turned out to be a good one for him... short and sweet. I was amazed at how easy this climb was. I spent 45 minutes on top and took 2 breaks of 15 minutes and still made it in 4.5 hours round trip. With that ease you would not expect the beauty, but I assure you it's there, with views ranging all the way from the Boise Mountains, to the Lost River Range... and all points in between. This would be a great starter climb for someone!

Trip stats:
Time: 4.5 hours
Length: 4 miles
Elevation Gain: 3,300 feet
Class (difficulty): 2

Drive: Take Idaho 75 north about 22 miles north of Ketchum and turn right (east) onto Senate Creek road just before you reach the Galena Lodge. Follow the road for about 2 miles until it reaches the base of the Galena Peak's west ridge. The road dies out just after crossing the creek in this avalanche ravaged area.

Climb: Head north and gain the west ridge on steep, but easy terrain. Once on the ridge, follow it through the forest until the ridge narrows and the trees thin. Here a faint climber's trail forms. Once above the treeline, the trail gets better. Follow it up the west ridge until the west ridge meets the summit ridge. Turn northwesterly and follow the ridge to the top.

Map of the Route: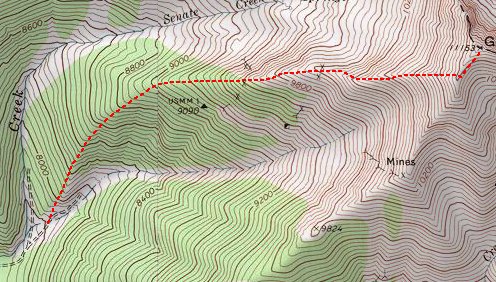 Pictures: Click on the pictures below to see the full-size version.

| | |
| --- | --- |
| | |
| The summit of Galena from a point to the north of the peak. | Looking up at Galena peak. |
| | |
| Castle Peak as seen from the top. | Looking down at the route. |
| | |
| Looking northwest towards the Sawtooths. | Looking south at Easley and Silver Peaks. |