---
Seven Devils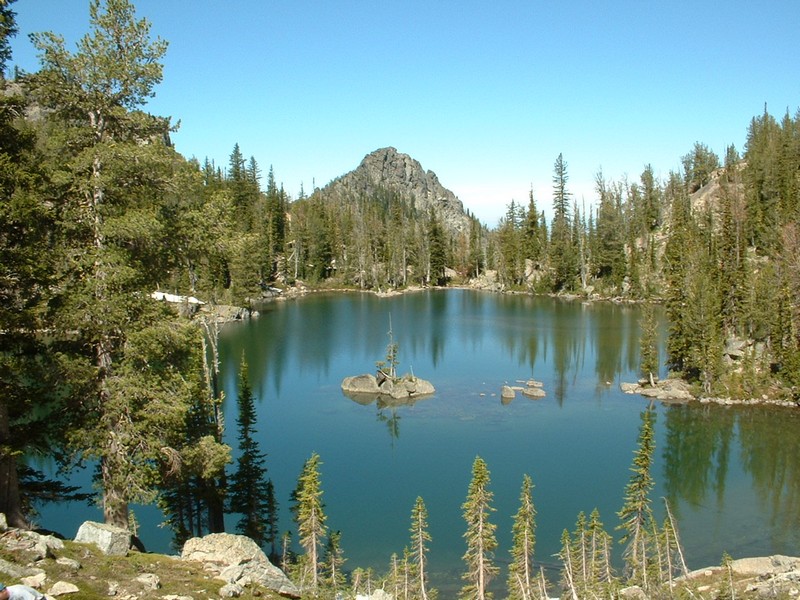 Purgatory Lake (Day 2).


Trip Report (7/4/2002 and 7/6/2002):
In preparation for Mount Whitney, Vince, Matt, Ketchum (Matt's dog), and myself did a shake-out hike in The Seven Devil mountains on the Oregon-Idaho border. While most people had plans of beer, barbecues, and fireworks on this weekend, Vince had plans of glissades, steep descents, and punishing hill climbs. This being my first backpack, I was skeptical that I would enjoy the punishment, but it turned out to be a blast! Here is a day to day recap of our adventure.

Day 1:

We woke up around 7:00 AM after a long drive placed us at the trailhead past midnight. We each picked our spot and began loading the packs. After an hour or so and some breakfast, we set foot for a basin just above, and west, of Upper Cannon Lake.

Luckily, the first part of the hike was downhill and really let me get used to the weight of the pack in a non-demanding manner. We made good time through the thin forest, which parts of had burned a few years ago. Once at the turnoff to Lower Cannon Lake, we unloaded packs and had a snack. This is where I learned the my first lesson of backpacking... NO BANANAS - it caused a mess inside one of my food bags that I would have to live with the next three days.

Our next objective was Lower Cannon Lake. We made quick work of the trail to the lake and once at the lake were welcomed to a view of huge, rocky peaks and breathtaking meadows. After a very short stay at the lake, we said goodbye to the trail, which we would not see for another 2 days, and headed for Upper Canyon Lake. I was dreading this steep, off-trail section and its 1,000 foot gain. However, as we got nearer and nearer the lake, I was surprised at how well I was doing... I guess those 5-mile runs had paid off. Once at the lake, we ate lunch, drank mountain margaritas (the highlight of the trip???) and took naps. Eventually, we got up and headed up a steep incline next to a snow-filled gully and made it to camp 1. What a day!

Camp was setup in a narrow grassy area between 2 boulder fields, next to a rustling creek. After setting up camp, relaxing, and a dinner of tacos (with lamb meat) followed by fresh baked peach cobbler, we climbed about 700 feet to the summit of Mount Ogre. On top was a old register, with names from the 1940's. What a site looking across to Hell's Canyon and the other peaks and lakes (like Upper Canyon, 1,000 feet straight below us). On the way down, we held the first of several glissading championships, don't know who one, but it was me that pointed out the route to the glissade competition area, so I will claim title.


Camp 1.

The Ogre from Cannon.

The Ogre from camp 1.

Looking south from the top of The Ogre.

Looking down at Upper Cannon lake from The Ogre.


Day 2:

Day 2 was planned to be the most brutal of the trip. Climb beneath the biggest peaks in the range, drop down to an unnamed lake, climb up to a saddle on the rib of the Devils, drop down to Purgatory Lake, work our way around the base of He Devil, then head back and over the crest on the north shoulder of He Devil.

All went well with plans, and the Purgatory descent was exhilarating. We rested at Purgatory and did some glissading near by. We then headed towards He Devil lake, where in route, we found ourselves down climbing a steep ravine. After lowering our packs down and looking for a place to lead Ketchum (the wonder dog) down the steep section, I slipped on a wet, mossy rock and slid about 10-15 feet down. We then got out of the ravine and sat down to attend lunch and cleaning myself up. After that it was a grunt to the a saddle just north of He Devil and into the Sheep Lake basin. After reaching the saddle, we descended on Sheep Lake and Camp 2.

We spent the rest of the day swimming, drinking magaritas, and eating. Very relaxing! The sunset and end of day reflections on Sheep Lake were to die for!


| | | |
| --- | --- | --- |
| | | |
| He Devil just after leaving camp 1. | Wallowas from the saddle above Purgatory Lake. | Reflection on Sheep Lake from camp 2. |
| | | |
| Vince & Matt at the cooking area for camp 2. | She Devil from camp. | Mount Baal from camp. |


Day 3:

On day 3, I left Matt and Vince to head off on my own. Before heading over Goat Pass to the trailhead, I thought I would bag Mount Baal and She Devil first. From Sheep Lake I scrambled up the talus slope between Baal and She. This was a steep climb and seemed to take forever. Eventually I poked my head out over the saddle and could see camp 1 and 2 from my position. It was about another 400 feet up to She Devil. Once done signing the register on She, I headed back to the saddle, then up Mount Baal. Mount Baal had a register, and some prayer flags on its summit.

I then descended down to Sheep Lake, grabbed my stashed pack and headed for the climber's route back to Windy Saddle. Don't know if I was tired from 3 days of hiking, or what, but this section exhausted me. By map, it looked like an easy hike over a couple of passes and drop down to the trailhead. In reality it was a 2.5 hour ordeal, with some hairy moments because the trail was often covered with snow and forced me to climb rocky areas and steep snow. Eventually I arrived at the trailhead, exhausted but enthused by my first backpacking trip.


The Tower of Babel.

Sheep Lake from the top of She Devil Peak.

The summit of She Devil.

The Ogre from She Devil.

He Devil from Goat Pass.


Directions:
About a mile before Riggins, Idaho (or after if coming from the north), look for a signed road heading west. The road is passable to passenger vehicles, but very steep and rocky the last 5 of the 17 miles. There are junctions, but always head for the signs saying "Seven Devils Campground".