Danskin Peak - 6694'
Location:
43.413°N 115.659°W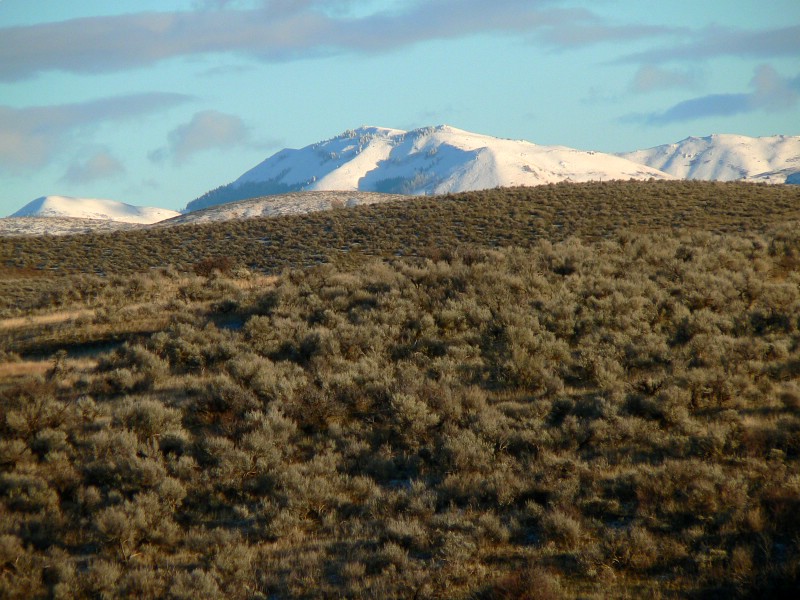 Danskin Peak from the west (taken January 2006).

Click on image to enlarge.

Stats
Distance: 13 miles
Elevation gain: 2500'
Class (difficulty): 2

Report:
Danksin Peak is located 20 miles due north of Mountain Home and is very visible from the Interstate as you head to/from Boise. The peak rises high above the desert to its south and very steeply above the South Fork Boise River to its north. The top has impressive views in all directions, with the Snake River Plain and Owyhee mountains to the south. To the north is the green Smith Prairie and the Boise and Trinity Mountains, which are very impressive from this angle.

The top of the peak is accessed via a road. Luckily the road comes in from the north side of the peak and therefore is drifted shut until early summer, allowing for quiet hiking. On the summit is a large lookout tower. My wife has been on several peaks, in Idaho and Colorado, but this is still the most impressive view from a peak she's experienced.

While the road is the primary access point, you could find doable routes up the south ridge (steep) and east ridge (long, but interesting).

Update - 4/22/2006 Trip Report I've got so much going on (softball, work, yard work, etc…) that I haven't been getting a lot of sleep lately. When Sean and I arranged to go to the Owyhees and meet at 6am, I thought it would be tough, but I didn't think it would be a problem. Just in case, I set 2 alarms to go off at 5am. At 7am I awoke with that "oh $hit" feeling. Sean had called several times. After I couldn't reach him, I decided he must have went without me and decided to do something closer to home solo. I decided Danskin Mountain would be a good choice.

During my first spring of hiking (8 years ago), I visited Danskin Mountain twice. The first time I was by myself and drove to within about 2 miles of the top and hiked the snowbound road. When the road was blocked by a very steep snow slope (at least it seemed so back then), I almost retreated before getting up the courage to push forth. I visited the area 2 or 3 weeks later with my wife and we thoroughly enjoyed the scenic, nearly snow-free hike to the top and views that came with it.

This year I planned to return since the peak is so close to my house and was so enjoyable. I was going to try to drive as far as I could before hitting mud or snow. I was almost hoping something would stop me well away from the peak and require me to take a new and longer route. As I drove, I reached several washed out sections of road that looked gnarly, but once I attempted them, they were not too bad. I then reached a spot where a culvert was sticking out of the road and the creek had run around it, creating deep trenches on both sides. I could tell that others had gotten by, but with a bad experience during my last outing, I decided not to chance it and parked. I had no idea how far from the peak I was and could not see it. I just started hiking thinking that I'd get some miles in trying to get to the base of the mountain.

I started following the road for about 1.5 miles. The road started heading NW and I needed to go due north, so I left it and traversed a very cool grassy area. After fighting ups and downs for awhile, I decided to just drop into a creek that seemed to come from the base of the peak. This was a good move as it had a old road and game trails in the bottom and allowed me to move quickly. As I started getting close to the peak, there were granite outcroppings all around and the scenery was awesome. I reached the base of the peak after only about 1.5 hours and I could see the lookout high above me now, with steep, but snow-free and accessible slopes above. With 1600 feet to go, I went for the summit utilizing the south face. The face was just steep for the most part with good footing. I reached one small band of rocks and messed around a bit to make the climb more interesting. I then reached a second rock band near the summit. This was a cool spot, with twisted drifts of snow and rock outcroppings creating a cool little challenge (although kind of cheesy when you know that 5 feet away is a snow-free dirt path you could follow).

The views were as I remembered, as the peak really sticks out above the surrounding terrain and is perched just above the deep canyon of the south fork of the Boise River. Beyond that dramatic canyon are the flats near Prairie and behind the that the very snowy Trinity Mountains.

Getting there (thanks to Andrew Huang for correcting these for me):
Take the I-84 EXIT 90. Merge onto I-84 Business Loop heading toward town. At 2.9 miles turn LEFT onto CANYON CREEK ROAD. Reset your odometer. After 4.6(?) miles the pavement ends. At 8.2 miles take the LEFT fork on MAYFIED ROAD (this may be known as Foothill Rd as well, but is marked MAYFIELD). (There is a second fork for Syrup Creek and Immigrant Rd just 100yds up the road that can be ignored.) Reset your odometer. After 6 miles, continue straight (north) on FS-167. At 14.5 miles you reach a reservoir on the east side of the road. Turn right just past the reservoir. Drive east for 3 miles, then turn north (LEFT) at a junction. You will continue north for 1.5 miles, until the road reaches another fork. From this fork, Danskin Peak in 3 miles each way. Park here or continue driving.

Hiking instructions:
Hike or drive the road from anypoint along the way. I thought parking at the final turn made for a sporting 6-mile, 1600' ascent.


Photos

Danskin from where I starter hiking.

After a mile and a half of hiking.

Zoomed in photo of Danskin.

Neat grassy meadow with Danskin behind.

Rocks near the south base of the peak.

South face.

The lookout and out buildings.

House Mountain.

Prairie, Idaho with the Trinity Mountains behind.