---
Cuddy Mountain - 7,867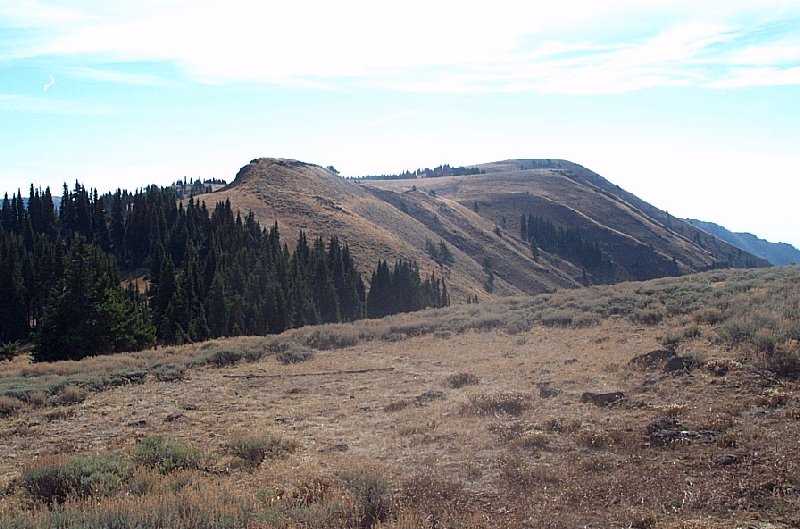 The view of Cuddy Mountain from the trail, just below Cuddy Point.

Trip Report (October 21, 2001):
*trip report provided by Zach Vickery

Cuddy Mountain is a commanding mountain easily visible from surrounding valleys. Not surprisingly, it is one of Idaho's 50 finest. It is also the highpoint of the Cuddy Mountain Range.

We climbed via a well-maintained trail following East Brownlee Creek. Coming from Cambridge, ID, take SR 71 north about 15 scenic miles along Pine Creek. On the right, there will be a signed turnoff for the Brownlee Creek Campground (Payette NF). Take this turnoff - it will reach the campground in just over one mile, and continue on to the trailhead. About 1/2 mile past the campground, you will reach an unmarked fork - you'll want to stay left. About 1/4 mile later there will be a marked trailhead and some parking. This is the start of the hike.

The hike is about 3.75 miles and 3000 feet in elevation gain. Starting from the trailhead, the trail climbs briskly up the East Brownlee Creek, eventually reaching a signed pass right below Cuddy Point. From this pass, start heading south towards Cuddy Mountain. After hiking below the ridge for awhile, you will gain the ridge at a junction with a 4WD road. I believe this is called the "Council- Cuprum Road". From here, you can simply follow the road right below Cuddy Mountain, then cross-country the last 20' of elevation gain.

Cuddy Mountain has a very flat summit, crowned by a cairn and benchmark. A summit register (placed by Bob Packard IIRC) was in a alumnium can replete with shredded edges - we replaced the container with a nice innocuous plastic bag. At the summit, you are enveloped in a cavalcade of surrounding mountain ranges - in particular the Seven Devils, Wallowa, Hitt and West Mountains. Brownlee Reservior on the Snake River is also visible. A very enjoyable fall HP.

Trip stats:
Time: 6 hours
Length: 8 miles
Elevation Gain: 3,000 feet

Pictures: Click on the pictures below to see the full-size version.

| | |
| --- | --- |
| | |
| Looking north at Cuddy Point (also climbed on this trip). | US Flag and me on top of Cuddy. |
| | |
| Looking down at the Snake River from the top. | |