---
Mount Cramer - 10,716 (Second Highest Sawtooth Peak)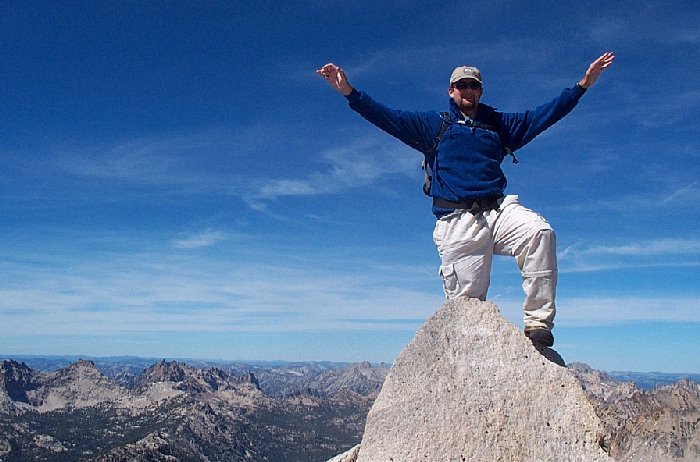 Me on top of Mount Cramer. Arms extended for balancing purposes only, not to simulate flight.

Trip Report (September 9th, 2001):

Here is my trip report for a climb of Mount Cramer, the second highest peak in Idaho's Sawtooth mountains. It is also the highest peak in Boise County of Idaho.

Zach Vickery and myself left Boise at 5:30 AM and drove up to the Sawtooth valley for this one. A recent storm had left snow in places, especially on Galena summit. We thought we might be in for some major snow up high, but luckily we noticed that the Sawtooths were fairly snow free (later we would experience a couple of inches in places above 8,000 feet or so). After arriving, we spent the next 10 hours hiking through pristine, lake-filled forests and alpine scenery. A climb of Cramer, though strenous, is a great experience, with dozens of lakes in view from top and passed along the way. On top of Cramer is a very nice register with a couple of notepads and little trinkets people have left.

Trip stats:
Time: 10 hours
Length: 15-16 miles
Elevation Gain: 4,500 feet
Class (difficulty): 3

Drive: On Idaho route 75 about 12 miles south of Stanley (and about 49 miles north of Ketchum) find the signed Decker Flat road on the west side of the highway. This is across the highway from the Sawtooth Valley Work Center road. Head west on road 210 and cross the Salmon River. At about 0.4 miles, turn left on the signed Hell Roaring Creek road, which you will follow for approximately 5 miles to its end (keeping right at the signed junction with the Mays Creek road). This road is definitely only for high-clearance vehicles, and 4WD may be necessary. It is also possible to start hiking on trail 097 shortly after turning left on the Hell Roaring Creek road; this point can be reached without 4WD but adds several miles to the hike - perhaps 4 miles each way. Parking at either trailhead requires a Sawtooth NF/NRA parking permit.

Climb: We hiked from past Hell Roaring Lake all the way to Imogene Lake. From there, we hiked northwesterly on on-again, off-again trails towards lake 8733. From there, climb up the rock and forested hill to the east ridge, which can be followed nearly to the summit. When the ridge dies out, boulder hop the last few hundred feet to the summit. That last portion is by far the crux of the climb, but all-in-all not that difficult.


Here's what the route looks like (this exludes most of the trail portion):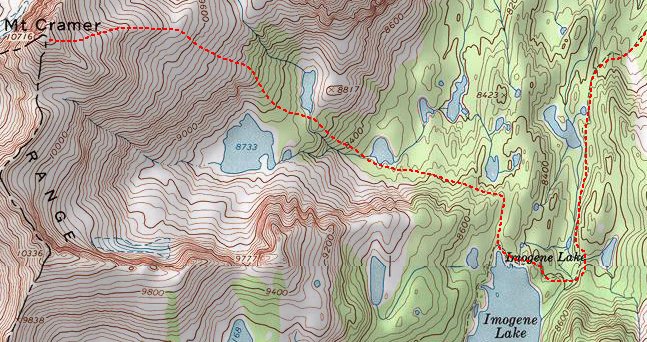 Pictures: Click on the pictures below to see the full-size version.

Mount Cramer, as seen from Imogene Peak

The Finger of Fate, as seen from Hell Roaring Lake

Looking across the valley at the Northern White Clouds

Castle Peak and the southern White Clouds

Snowyside Peak from Cramer's summit

Imogene Peak from Imogene Lake

Imogene Peak, with the Boulders in the backdrop

Hidden Lake

Elk Peak

The Cramer Lakes