---
Cape Horn Mountain - 9,526 Feet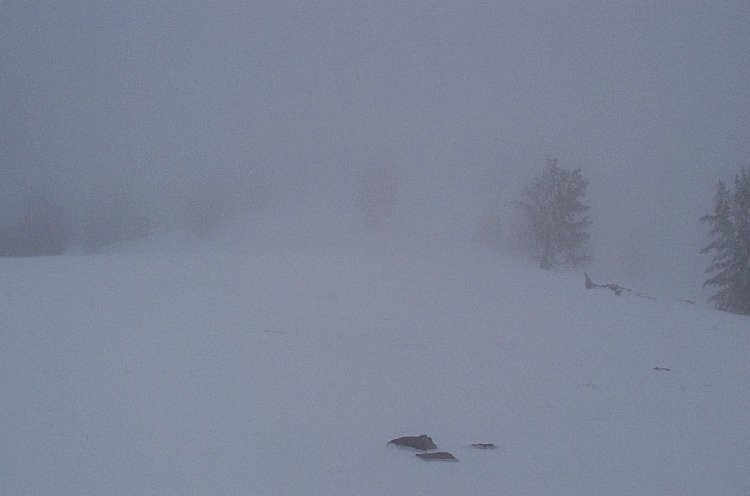 The view of our turnaround point on the first trip. I estimate the visibility was 100-200 feet.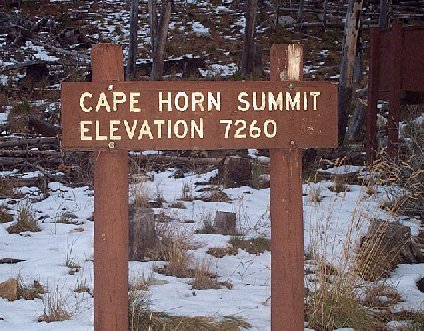 A sign at the trailhead.


Trip Report (November 2001):

Update!
On 7/27/2002, Zach and I returned to Cape Horn and summited successfully! A photo from that trip...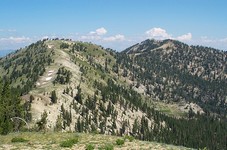 The ridge leading up to Cape Horn Mtn., the peak is the furthest point back.



Unfortunately, I have to admit that weather turned Zach and I back from this trip twice this fall. On the first trip, we encountered white out conditions once get got to the aforementioned ridgeline at 9,000 feet. Needless to say, we turned back. The next trip I decided that 60 degree days in Boise translated into snow melt in the mountains and that the route would have little snow. Therefore, we opted against heavy snowshoes, and even gators. 3 hours later, we realized the errors in our ways, as lateness, wet feet, and knee deep snow turned us back about 1/2 a mile from the summit. Borrowing a phrase from Arnold... WE WILL BE BACK!

Drive:
From Boise, drive ID 21 through Lowman and on to Banner Summit. A few miles past Banner Summit, turn left onto the signed Landmark to Stanley road. Follow this good gravel road for about 3 miles to Capehorn Summit at 7,200 feet. From this point, there is adequate parking and trails heading in both directions. You will be wanting the one heading north. This trailhead is easily accessible by passenger autos.

Hike:
Follow FST-024 as it switchbacks up to a ridge at around 9,000 feet. From here, hike the up-and-down ridgeline northwest. Since the ridge was covered in snow both times I hiked it, I can't tell you where the trail ends, or even if it does. After about 2 miles of hiking on this ridge, you reach the summit of Cape Horn Mountain.

Pictures: Click on the pictures below to see the full-size version.

| | |
| --- | --- |
| | |
| The view of the Bear Valley from the trail. This is where the rainbow people partied in the summer of 2001. | This is the view of the peak from about 1/2 a way. Turnaround point on the second trip. |
| | |
| The view of the White Cloud range from the trail. | The view of the Sawtooth range from the trail. |