---
Camas County Highpoint - Point 10,337 feet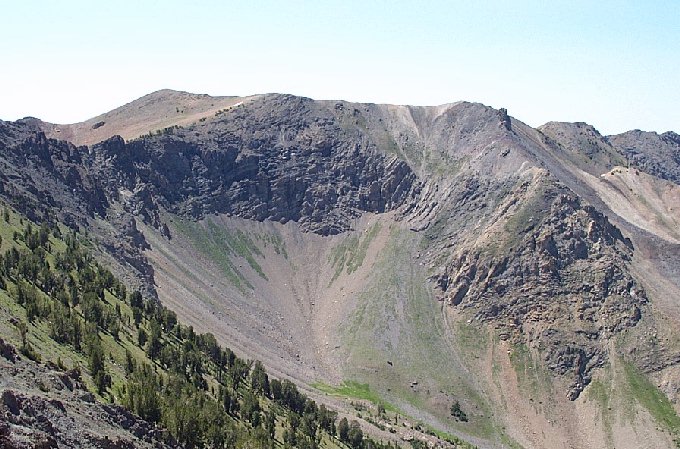 Looking at the highpoint of Camas County from the top of Saviers Peak.


Trip Report (July 2001):
I've kind of started getting into county highpointing (visit http://www.cohp.org for more info) and that group listed Camas county's highpoint as a spot elevation on the northern county line of 10,360+ and un-climbed. I got the topo and thought it to be doable, so I went for it. The hike up Owl Creek was nice, then the basin between the Camas hp and Saviers Peak made the trip worth it... it is beautiful. The climb is class 2 basically and very scenic.

-Dan

Directions:
From Ketchum, drive north on ID-75 for 20.5 miles and look for the Owl Creek turnoff on the west side of the road. Immediatley after the turnoff, the Owl Creek Road crosses the Big Wood river. I stewed over whether or not to cross the 20 foot wide, 3 foot deep river for quite a while... then decided to park it and walk the 3 miles to the end of Owl Creek road. The road is in excellent condition, except for 3 spots (including the river crossing) that will require high clearance.

Route:
From the end of Owl Creek road, I started angling southwest across a stream and into a forested area. Once above the trees, I continued my sidehill until I wound up on a bench overlooking the Owl Creek drainage. From here, I followed this bench to a gully that runs on the north side of Point 9616. Follow the gully up to a spectacular cirque between the Camas County highpoint and Peak 10,441 (Saviers Peak). I crossed through the lowpoint (the map shows at intermittent creek starting here) and up a steep pitch on talus to a bowl at the base of Point 10,337. The going is easy from here, pick any route and head up to the ridge to your south.

Trip totals:
10 miles
3,400 foot elevation gain
7 hours, 30 minutes

Pictures: Click on the pictures below to see the full-size version.

| | |
| --- | --- |
| | |
| Another view of the highpoint from Saviers Peak. | Looking at the route, this was the hardest part of the climb. |
| | |
| Looking at the Owl Creek drainage from atop Saviers, this was used to access the Camas Cohp, not Saviers. | |