---
Boulder Mountain - 8,377 Feet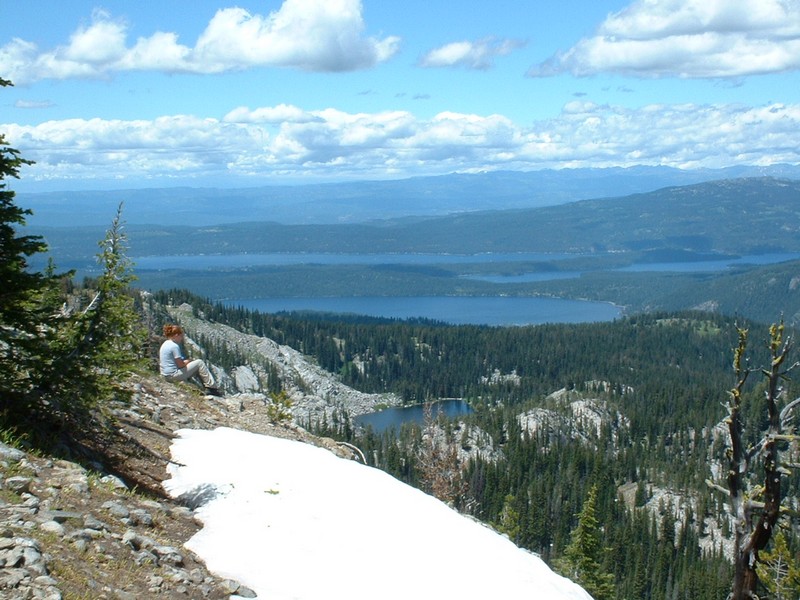 Looking northwest from the top of Boulder Mountain.


Trip Report (6/30/2002):
I climbed Boulder Mountain with my wife's little sister (through Big Brothers and Sisters). This was her first real hike, so we took our time.

The climb passes several lakes and meadows on the way. Being only June, everything was green - green - green! Ashlee loved the hike, especially when the summit views opened up.

From the top, hundreds of peaks, dozens of lakes, and Long Valley are visible. The top itself has a few trees, inhibiting views a little. Also on top is some rubble from an old lookout or something.

Trip stats:
Time: 7 hours
Length: 10 miles
Elevation Gain: 2100 feet
Class (difficulty): 2

Directions:
To reach the trail head, turn east off Idaho 55 at the Farm-to-Market Road. Stay on this road until you see a sign for Boulder Lake and turn east again. The Boulder Lake trailhead is about four miles up the road just before the Boulder Meadows Reservoir.

Route:
From the trailhead, follow the trail as it skirts past Boulder Meadows Reservoir on its north side. Once past the reservoir, the trail switchbacks through the forest and up to Boulder Lake. Follow the trail around the south side of Boulder Lake. Just past the lake, the trail intersects with a trail coming in from the south. Take this trail north to Boulder Summit. From Boulder Summit follow a faint trail west towards the top of Boulder Mountain. We just bush-whacked to the top, beings the trail was so faint.

Pictures: Click on the pictures below to see the full-size version.

| | | |
| --- | --- | --- |
| | | |
| Boulder Meadows Reservoir. | Falls, created by water coming out of Boulder Lake. | Buckhorn Mountain with Boulder Lake in the foreground. |
| | | |
| The view north from Boulder Mountain's summit. | Ashlee on top of Boulder Mountain. | The West Mountains and Long Valley from the summit of Boulder Mountain. |