---
Boulder Peak - 10,981 and Boulder Basin Peak - 11,041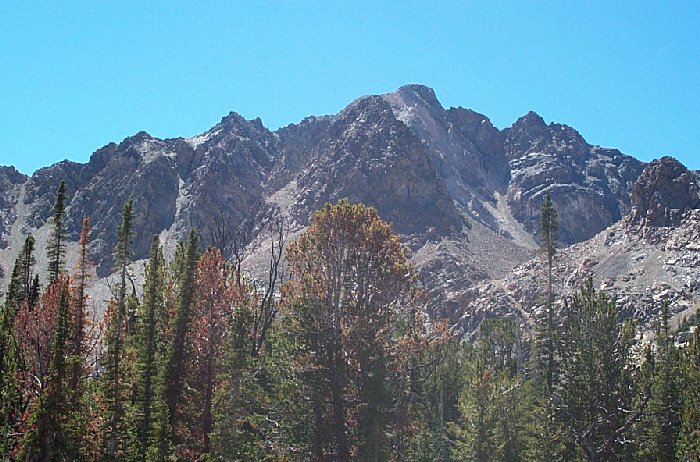 The view of Boulder Peak from Boulder Basin.

Trip Report (August 25th, 2001):

Here is my trip report for Boulder Peak and Boulder Basin Peak, two peaks in Idaho's Boulder mountains.

Four of us (Matt, Zach, Alan, and myself) drove to within a mile or so of Boulder City on the roughest road I've ever been on. Alan was a bad ass driver, so that lessened the nerves. We then hiked into the basin and took photos of the old mines, shafts, and cabins. What an area! After play time, we headed up the basin and climbed Boulder Basin Peak. Realizing we were on the wrong peak, we then traversed across the ridge over to Boulder Peak (a much more impressive peak). That traverse was a challenge, but great fun. Once on Boulder, we dropped down to Boulder Lake via a steep talus slope, swam in the lake, then hiked back to the vehicle. It was a kick ass day with perfect weather!!!

Trip stats:
Time: 6.5 hours
Length: 6 miles
Elevation Gain: 3,500 feet
Class (difficulty): 3 (Tom Lopez calls the ridge traverse between the two peaks class 4, so you might want to be prepared for that... I call it a 3)

Drive: Take Idaho 75 north about 7 or 8 miles and turn right (north) on Boulder Creek road. Follow the signs directing you to Boulder Basin. This road is extremely rough. I would not take my new vehicle on it, but it is hikeable (or driveable if you possess a rugged 4x4 and some driving experience).

Climb: Read report above... basically we hiked into the basin, climbed the wrong peak, fixed our mistake by traversing a narly ridge, dropped down to the basin on steep slopes, and then hiked back to the truck.


Pictures: Click on the pictures below to see the full-size version.

| | | |
| --- | --- | --- |
| | | |
| Old mining building in Boulder Basin | Boulder basin lake from Boulder Peak | Boulder basin lake |
| | | |
| Boulder City | Boudler Basin Peak | Matt, Zach, and Dan |
| | | |
| Boulder Peak from Idaho 75 | Crest of the Pioneers from Boulder Peak | Easley Peak from Boulder Peak |