Elevation: 12,662
State: Idaho
County: Custer
Mountain Range: Lost River
Latitude: 44.137ºN
Longitude: 113.779ºW
Named After: William Borah, Idaho senator nicknamed the "Lion"
First Ascent: T.M. Bannon (USGS Surveyor) in 1912
Alternative Names: Mount Borah, Beauty Peak
Fastest Ascent: Luke Nelson, October 22nd 2010 - Car to summit in 1:26:42 and roundtrip in 2:21:11
Popular Routes: Southwest Ridge (most common), North Face
Southwest Ridge Mileage: 7 miles round trip
Southwest Ridge Elevation Gain: 5,500 feet
Southwest Ridge Class: 3

Click
here
for a topo map of Borah Peak, with the route drawn on it.

Here's a link to
Borah Peak
on a topo map.
Directions: From Arco drive approximatley 45 miles north on US 93. Turn east on Birch Springs Road at the sign for Borah Peak access and drive to its end. At about 3.5 miles the road turns and runs along the earthquake fault of 1983. It then passes through a patch of quaking aspens and emerges at the parking lot. There are several campsites near the trailhead, a lot of parking, and a bathroom.
Camping Units: 5
Toilets: 1 (Careful here, there was no tp the last time I visited!)
Fee: None
Water: None
Elevation: 7,200 feet
Season: May through November
1.
What is the prime season to climb the standard route on Borah Peak?
July 15th - September 15th
2.
Do I need an ice axe and crampons?
When climbing Borah during seasons other than those listed, yes. Even during the months listed, an axe may be required on the
snow crossing
. During my ascent, there was snow on the ridge crossing, but it was beaten down into a 3-4 foot wide, 3 foot deep trail... no risk during crossing at all.
3.
I've heard so much about "Chicken Out Ridge", do you have any suggestions when climbing it?
I can't stress enough to stay on the ridge. Most people get in trouble by trying to bypass the ridge on one side or the other.
4.
What kind of footwear will I need to wear?
I wore my full leather boots, which were very handy on the loose stuff, but I felt their weight at the end of the day. A friend of mine has climbed the peak in trail running shoes and had no problems.
Have a Borah Question, click on one of the links below to have it answered:

Idaho Outdoors Forum

Ask Me
Lost River Ranger District
716 W Custer
P.O. Box 507
Mackay, Idaho 83251
Phone: (208) 588-3400
Fax: (208) 588-2924
Here is a photo showing numerous technical climbing routes on the north face of Mount Borah:
Photo credit: Me; Bob Boyles is credited with adding the routes - Click on image for full-size photo
Climbers on the north face of Borah Peak:
Photo credit: Dean Lords - Click on image for full-size photo
According to the forest service, 3 people have died while climbing Borah's slopes.
An avalanche claimed the lives of 2 climbers in November of 1977. Read Mike Howard's write-up on the incident.
In 1987 Dave Probst was killed on a decent from Borah down Rock Creek. He had just proposed to his girlfriend on the summit, so they were not married. They decided to head down Rock Creek between the summit and the false summit. He was unable to stop his glissade down the series of snow fields there and ended up trapped in the gap between the third snow field and the rock face. Snow that sloughed off in his fall buried him.

(This information was provided by Paul Wolters who was a member of Idaho Mountain Search and Rescue, along with Dave, at the time of Dave's death.
Click on pictures for the larger version
| | |
| --- | --- |
| | |
| Borah viewed from Dickey Peak (northwest) | Borah during winter |
| | |
| Borah viewed from the valley floor | The view from the top of Borah |
| | |
| Sign at the trailhead | Sign on US 93 near the turnoff to the trailhead |
In 1983, an earthquake occured near the base of Borah Peak. The peak registered 7.3 on the richter scale. The earthquake raised Borah Peak 7 feet. The scarp is still visible along the western side of the peak and is crossed on the drive into the trailhead.
Here is a sign near Borah that explains the earthquake: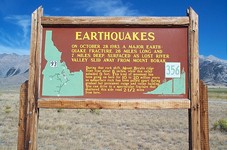 Click for larger image

Summary of Borah Quake