---
Bonneville Peak (9,271 feet) and Skyline Peak (9,119 feet)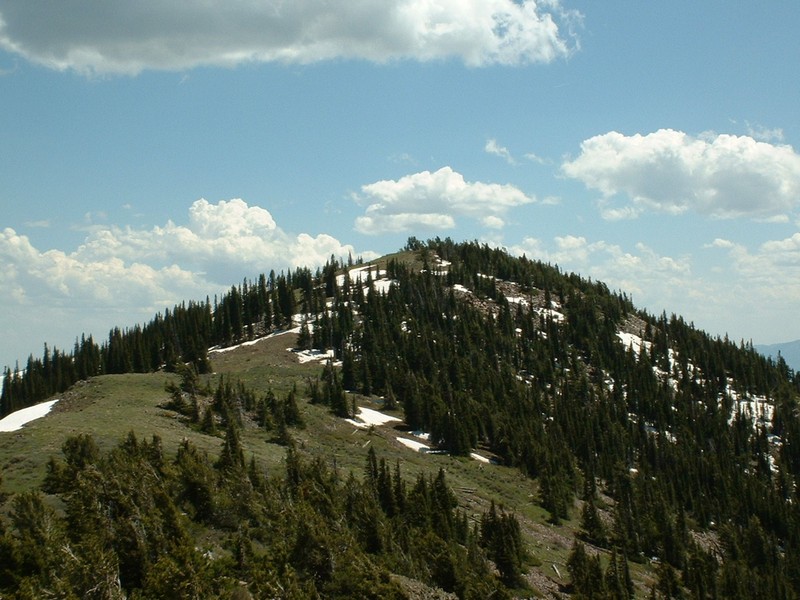 Bonneville Peak viewed from the saddle between it and Skyline Peak.


Trip Report (6/15/2002):
Our first adventure in southeast Idaho was a climb of Bonneville and Skyline peaks near Inkom, Idaho. From the valley, Bonneville looks like a monster. We climbed from the Pebble Creek ski area at the western base of the peak. The view from the top is fair, but the flatness and tree covered summit is not as great an end to the climb as one would expect.

Trip stats:
Time: 4 hours 30 minutes
Length: 7 miles
Elevation Gain: 2,800 feet
Class (difficulty): 2

Directions:
Leave I-15 at Inkom, exit 58 southbound. (These directions work southbound, but I think the exit is different northbound.) Bear right at the bottom of the ramp toward Inkom. Continue straight at 0.8 miles (don't bear left to return to I-15). Left at 2.2 miles, signed to Pebble Creek ski area. Right 0.3 mile later on Green Canyon Road (again signed for the ski area); follow this road up hill to its end (about 4.25 more miles) at the ski area. Park in the upper lot.

Route:
Follow the jeep trail under the lifts until you reach the upper lift at around 8,300 feet. From this point, angle right (south) and then follow clearings to the saddle between Bonneville and Skyline (unnamed on the quad).

Pictures: Click on the pictures below to see the full-size version.

Zach on top of Skyline Peak.

Snow Peak (closest) and Haystack Mountain.

The city of Inkom from the top.

Avalanche path noticed on the way down.