---
Blizzard Mountain - 9,313 feet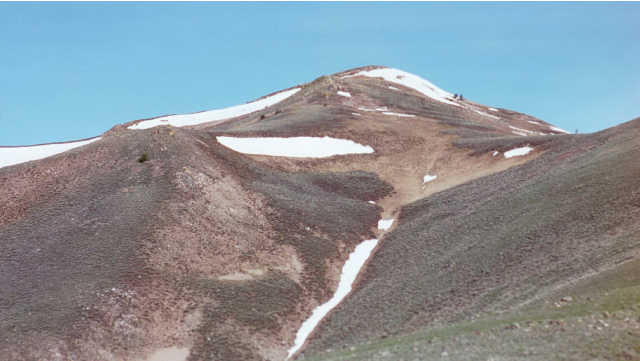 The view of Blizzard Mountain from the east, about 30 minutes from the summit.


Trip Report (May 2001):
From the top of Blizzard Mountain you have a great view of the Pioneer, Lost River, and Lemhi Mountains. You can also see the numerous cones and lava flows of the nearby Craters of the Moon. Big Southern Butte jutting thousands of feet above the flat plains is a pleasantry as well.
Aside from the views, I was impressed with the size of the snowdrifts that accumulate on the eastern and northern sides of the peak. The area is very green, with beautiful meadows tucked under large cottonwood trees. The hills are colorful as well, with numerous flowers, mostly yellow in color.
Atop Blizzard, you will find a wooden and 2 rock cairns, a USGS benchmark, and a summit register identifying tungsten miners as the first to climb the peak in the 1880's.
With all of that said, I highly recommend climbing this peak!

Trip stats:
Time: 5 hours
Length: 5 miles
Elevation Gain: 3,500 feet
Class (difficulty): 2

Directions:
Head east out of Carey on US 93. Drive to within 4 miles of Craters of the Moon and look for dirt road heading north. The road meanders along, with the Pioneers on one side and lava flows on the other (this road is clearly shown on the Blizzard Mountain south quad). Follow the road as it winds north towards Cottonwood creek. After the lava flows die out continue north past the first road branching off. Soon you will pass an old building on your right (shown on the quad). Just past that you will reach an old bridge spanning Cottonwood creek. I would not take my mother-in-laws car across this bridge, so park here.

Route:
Cross the bridge and hike the old road heading left (northwest) towards the paymaster mine. After about a mile, you will see the old mine on your left on the hillside. I followed the road to its end, then angled uphill and southeasterly to the top of the ridge on an old jeep trail. Follow the ridge north until it meets up with the eastern ridge of Blizzard Mountain. Continue on that ridge to the base of Blizzard Mountain and then scramble to the top. On top you will see two high areas, both with rock cairns. Head to the westernmost one, with the wooden cairn.

Pictures: Click on the pictures below to see the full-size version.

| | |
| --- | --- |
| | |
| Wooden cairn identifying the high point on Blizzard Mountain. | A huge drift on the eastern side of Blizzard Mountain. |
| | |
| The view east towards Craters of the Moon from atop Blizzard Mountain. | Looking down at the route used to get up Blizzard Mountain. |