---
Blackman Peak - 10,307 and Patterson Peak - 10,872 feet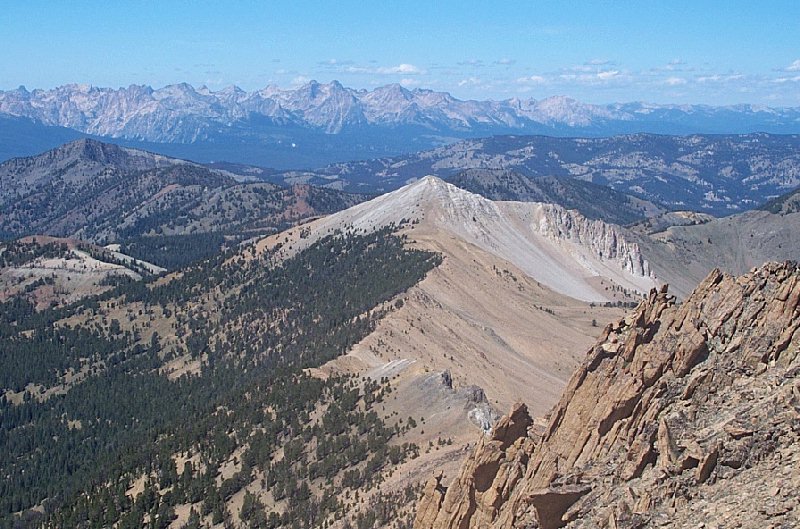 The view of Blackman Peak from the top of Patterson Peak. The Sawtooths loom on the western horizon.

Trip Report (August 24th, 2001):

Here is my trip report for a loop trip to Blackman and Patterson Peaks in Idaho's White Cloud mountains.

I had failed because of bad weather on two previous attempts of Patterson Peak. This time the weather was perfect and we continued on to Blackman Peak after climbing Patterson. Blackman Peak is a much more appealing mountain, but the view of Castle Peak from the top of Patterson is unbelievable. All in all, the loop we did was very enjoyable.

Trip stats:
Time: 6 hours
Length: 7 miles
Elevation Gain: 3,500 feet
Class (difficulty): 2

Drive: Take Idaho 75 north over Galena summit. Take the signed turnoff for the Fourth of July Creek Road, which heads east into the White Cloud Mountains. After about 10 miles, you reach the end of the road at the Fourth of July Creek trailhead. You'll find plenty of parking, a trail register, and a bathroom at the trailhead.

Climb: We hiked to the fork just before Fourth of July Lake, then took the trail to Ants Basin. Once that trail crossed the ridge between Patterson and Blackman, we turned east and climbed towards Patterson. After ascending Patterson, we descended back to the saddle and followed a make-shift trail west to the top of Blackman. From Blackman we descended the southwest ridge on another make-shift trail until we hit an old road. The old road led right back to the trailhead. A nice loop indeed!


Pictures: Click on the pictures below to see the full-size version.

| | |
| --- | --- |
| | |
| Castle Peak from Patterson | D.O. Lee Peak from Blackman |
| | |
| 4 Lakes Basin from Patterson | The Sawtooth Crest from Blackman |