---
Baker Peak - 10,174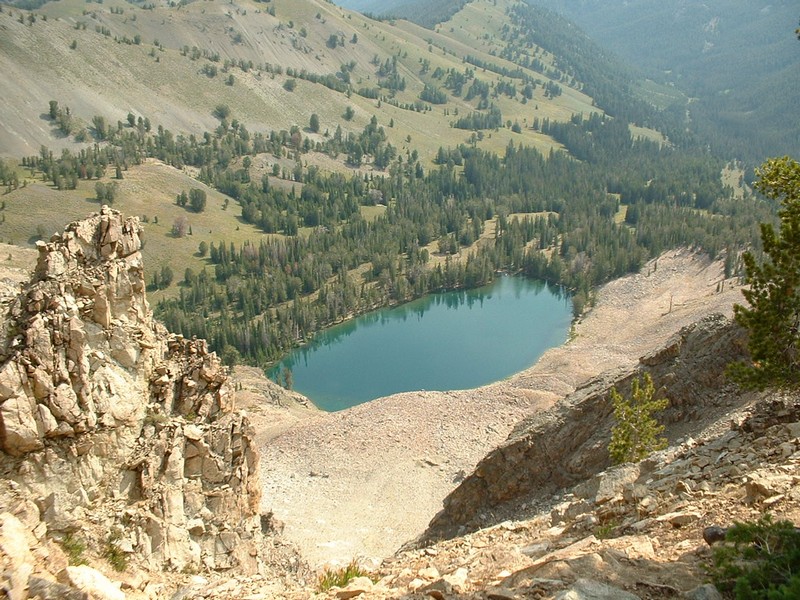 Baker Lake from an upper ridge of Backdrop Peak (Peak 10099).

Trip Report (8/3/2002):

Here is my trip report for Baker Peak and Backdrop Peak in the Smoky Mountains of south-central Idaho.

For my wife's first backpacking trip, I decided I would take her to Baker Lake north of Ketchum. The hike in is only 2 miles, so if things didn't go well, we could bail relatively harmlessly.

Things did go well, and we spent 3 days and 2 nights at the lake. On Saturday, I climbed Baker Peak and on Sunday I did Backdrop Peak, which sits directly west of Baker Lake.

The climb of Baker Peak was very pleasant. I crossed over a ridge south of Baker Lake and then angled southwest towards the saddle north of Baker Peak. Supposedly there used to be a trail in this area, but I saw none until just below the saddle. Once at the saddle, I followed the ridge south to the top. On top is a great view, a large cairn, and a register in a mason jar.

On Sunday, I climbed up Backdrop Peak. Backdrop Peak is the very menancing looking mountain that dominates Baker Lake. I got that name for it from several locals I spoke with... seems to make sense too. For this peak, I worked my way up the southeast ridge that starts just south of Baker Lake. In a few spots, this ridge gets a little narrow, but is manageable, with the option of class 2 climbing if you drop off the ridge a little ways. Just follow the ridge up to the point where it meets the summit ridge, then head due west. On this summit is a cairn, but no register. Like Baker Peak, an excellent 360 degree view is available. I spoke with my father on a cell phone for quite awhile before descending the northeast ridge (much less steep and better terrain than the southeast ridge) down to the lake.

Getting There: From Ketchum, drive north for 16 miles on ID-75. Turn left at the signed Baker Creek Road. Follow the road to its end at the Baker Lake trailhead. Plenty of parking is available at the trailhead.

Pictures: Click on the pictures below to see the full-size version.

Backdrop Peak from Baker Lake.

Backdrop Peak from Baker Peak.

Baker Peak from Backdrop Peak.

Granite on Baker Peak.

Summit of Baker Peak up close.

Camp at Baker Lake.

My wife fly fishing at Baker Lake.