---
Avalanche Peak (9,433 feet) and The Cross (9,225 feet)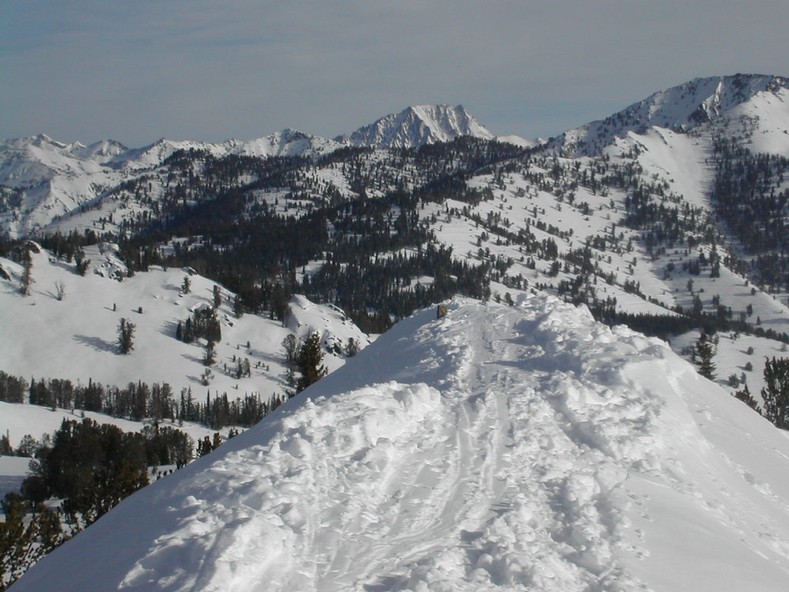 The summit of The Cross (basically, it is about a 5 foot wide, 100 foot long ridge). Notice Castle Peak looming in the background.


Trip Report (February 10, 2002):
I snowshoed Avalanche Peak and The Cross from Galena Summit on a spectacular February day. It had snowed about a foot 3 days prior, but as you can see from some of the photos, a beaten path has already formed. This trip is a quick one, but the views in both directions are spectacular. Surprisingly, The Cross turned out to be a nice little peak, with it's narrow summit and cornices overhanging both sides. Look for awesome views of the Boulders, Castle Peak, the Sawtooths, and the Sawtooth Valley.

This is an excellent snowshoe, with little avalanche danger (at least if you stay on the common route). There really are no steep sections, so beginners would do fine.

Trip stats:
Time: 2 hours
Length: 3.5 miles
Elevation Gain: 1,500 feet
Class (difficulty): 2

Directions:
From Ketchum, drive north on ID-75 to Galena Summit. .2 miles past Galena summit, there is a plowed turnout on the right side of the road, park here.

Route:
From the turn out, a trail heads northeast, past a large "Avalanche Warning" sign. Head up the barren slope to the north and get on the ridge line heading east. This ridge works its way to The Cross in 1/2 a mile. Once on The Cross, drop off the north side and shoe or ski until you get to the saddle between it and Avalanche Peak. Head straight north up to the top of Avalanche Peak, which is a bump on a large rounded mountain.

Map of the Route: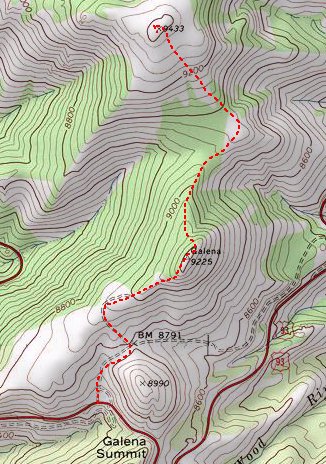 Pictures: Click on the pictures below to see the full-size version.

| | | |
| --- | --- | --- |
| | | |
| Hyndman Peak from the south... early AM. | Someone's perfect looking turns, near SNRA headquarters. | Boulder Peak from ID-75. |
| | | |
| Savier Peak from ID-75. | Galena Peak from the top of The Cross. | The Wood River Valley. |
| | | |
| Nearing the top of The Cross. | A little closer... almost there. | The Sawtooths from the top of The Cross. |
| | | |
| Looking up at my tracks on Avalanche Peak. | Castle Peak from the top of Avalanche Peak. | The Sawtooth Valley from the top of Avalanche Peak. |
| | | |
| Galena Summit, reporting 58 inches of snow at the time. | Warning sign at the trailhead. | Looking south towards the Smoky Mountains. |