Hyndman Peak - 12,009 feet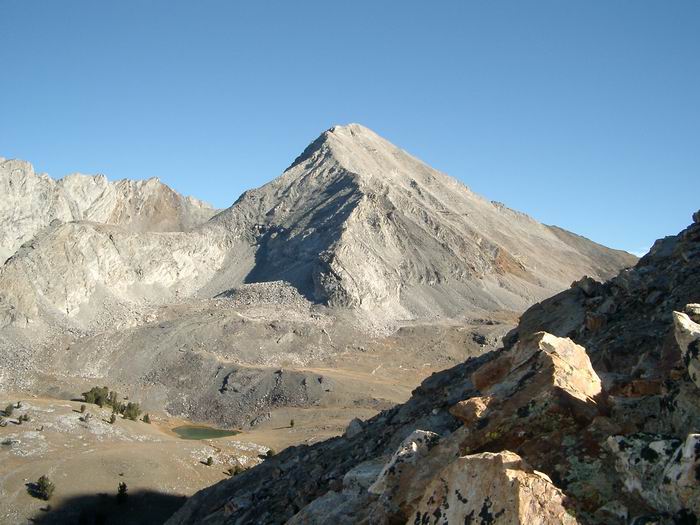 Hyndman Peak and Hyndman Basin from the west ridge on Cobb Mountain. Photo courtesy of Jim Just.


Trip Report (October 2000):
Todd Evans, Vince "Slim Shady" Lowe, and myself, Dan "Salt Lick" Robbins, climbed Hyndman Peak together on a beautiful October day. The day started out cold, but we were saved by the comfort of Todd's tent trailer (although I think the mexican food from the night before would have kept us warm regardless of where we slept). We left the trailhead at 8:30 in the morning and arrived on the summit around 12:30. After about 30 minutes on top, we descended and were back at the trailhead by 4:30 PM. The hike to the top is about 12 miles and a 5,000 foot elevation gain. The terrain varies from a wide trail wandering through quaking aspen trees to boulder strewn mountain sides high above the timber line. A climb of Hyndman, while very difficult, is an awesome experience. The wide variety of landscapes, coupled with the steepness of Cobb, Old Hyndman, and Hyndman itself are breathtaking. Make sure you check out the photos of the trip to see pictures of the mountain goats we spotted on the way up and the awesome terrain.

Facts:
Hyndman Peak is the 9th highest in Idaho. It is also the highest mountain in the Pioneer range, Blaine County, and the Sawtooth National Forest.

Getting there:
Turn east onto the East Fork Wood River Road from Highway 75. The turnoff is about 5.5 miles south of the town of Ketchum. Reset your odometer. You will reach the small village of Triumph at 5.8 miles, just keep heading east on the road. Shortly after Triumph the road becomes dirt. Continue east on the road when you see the turn-off for the Hyndman Creek trailhead at 7.2 miles. Take a left onto Forest Service road 203 at the fork. Follow 203 until it meets up with the confluence of the North Fork Hyndman Creek and Hyndman Creek and the trailhead. Park here. Cross Hyndman Creek on a foot bridge and follow the old jeep road through aspens and meadows along Hyndman Creek.

Route:
From the trailhead, follow the trail along side Hyndman Creek to the base of Cobb Mountain. Here the trail turns north and leads up a sagebrush covered hill to a small pond next to point 8724. Follow the ridge on the left-hand side of the creek northeasterly up to Hyndman basin. From Hyndman basin, the trail is faint, but just head towards the saddle between Hyndman and Old Hyndman. Once at the saddle, follow the ridge to the top of Hyndman Peak.

Pictures: Click on the pictures below to see the full-size version.

| | |
| --- | --- |
| | |
| Mountain goats spotted on the way to the top. | Hyndman Peak from the saddle between it and Old Hyndman. |
| | |
| Old Hyndman from the saddle between it and Old Hyndman Peak. | Cobb Mountain from the top of Hyndman Peak. |
| | |
| Lake visible in mountains across Wildhorse Canyon. | The route we used to get to the top of Hyndman (viewed from the top). |
| | |
| One of many waterfalls on the lower route. | |