---
Two Point Mountain - 10,124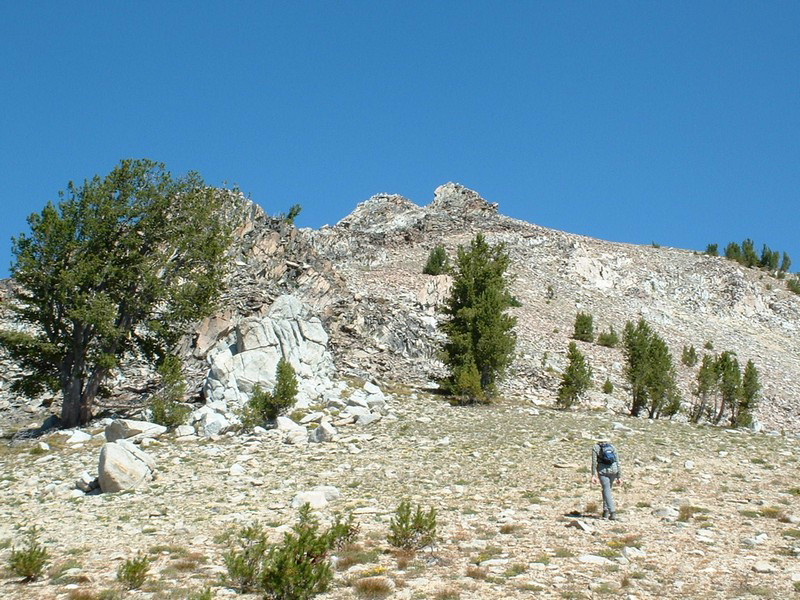 The summit of Two Point Mountain. Zach can be seen ascending the peak.

Trip Report (8/10/2002):

Here is my trip report for Two Point Mountain, highpoint of the Boise Mountains of Idaho.

Zach met me while I was camping with my family on Big Smoky Creek. From the campground, we drove about an hour to the start of the climb. This was a fairly neat area, with an enjoyable, short climb to the top. We used the south ridge to access the peak. The peak has a 360 degree view. Steel Mountain is visible, as are Smoky Dome, the Trinities, and of course, Castle Peak. Of particular interest are the basin to the southwest of the peak, and Newman Peak about a mile east, which is a nice-looking, pointed peak.

Trip stats:
Time: 4 hours
Length: 3.5 miles
Elevation Gain: 2,700 feet
Class (difficulty): 2

Drive: Since there are so many ways to get to this area, I will just say make your way to the Big Smoky guard station north of Fairfield. From here, take FS 012 up and over Fleck Summit and down into the upper South Fork of the Boise River area. Look for the turnoff for the Bear Creek road (FS 080) near the South Fork campground. Follow this road up the Bear Creek drainage for about 4 miles until reach the Goat Creek Trail (jeep road) coming in from the right.

Climb: Hike or drive the jeep road heading up Goat Creek and to the Tip Top Mine until you must cross a tributary of Goat Creek coming in from the north. At the creek crossing, climb northeasterly for about 1350 feet until the ridge you are on merges with the south ridge. From this point, the peak becomes visible. Hike due north over increasingly broken terrain (luckily it is stable) until you reach the summit.

Pictures: Click on the pictures below to see the full-size version.

| | | |
| --- | --- | --- |
| | | |
| Goat Creek basin below the peak. | Me on top, yes, it is a long way down! | Steel Mountain to the west. |
| | | |
| Lake in the basin north of the peak. | Pointed Newman Peak, east of the peak. | The ever-visible Castle Peak. |